Cafe Hon Closing for Good, Foreman Wolf to Take Over
Tonight, the 30-year-old staple on the Avenue in Hampden will serve its final crab cakes and Natty Bohs.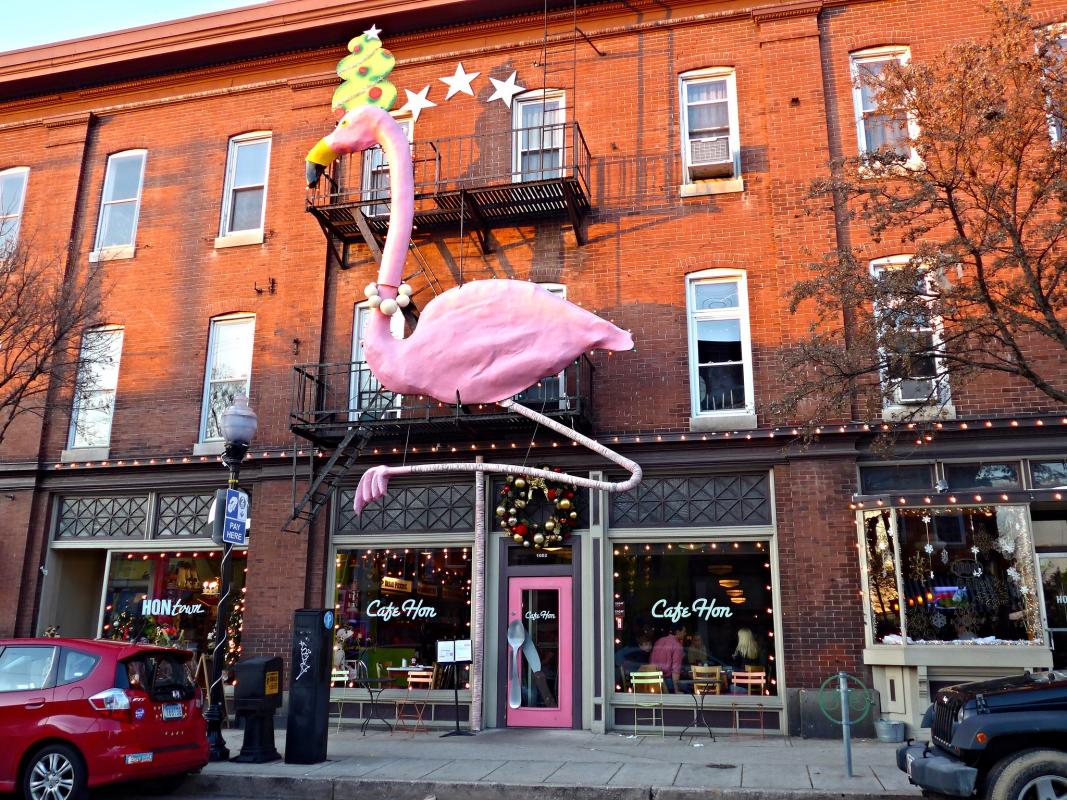 —Photography by Ali Eminov via Flickr Creative Commons
Just one week ago, neighbors flocked to The Avenue's Cafe Hon to toast its 30th birthday with discounted Bohs, buck-a-shuck oysters, and free cupcakes. It was a fitting menu to celebrate the haunt—known for its crabby comfort foods, adjacent Hon Bar, and classic Bawlmer decor—and everything it's brought to Hampden throughout the years.
Tonight, owner Denise Whiting and her staff, some of whom have been on board for decades, will serve the cafe's final meals.
"It's something that's been in the works for a long time," Whiting explains. "I'm 63, and it's time for me to look into doing a little something different. When I started, I never imagined it would last this long. But I really feel like I'm on a path, and this is the next thing. I've always known that when the time was right, the opportunity would present itself."
That opportunity came when Tony Foreman of Foreman Wolf Restaurant Group expressed interest in the space. Foreman Wolf—which owns six local restaurants including nearby Johnny's and Petit Louis Bistro in Roland Park—has newly leased the building and will soon begin transforming the cafe into a yet-to-be-announced concept. "I feel very strongly that this is meant to be," Whiting adds.
She and Foreman, a longtime acquaintance, had an informal meeting in 2019, when she happened to mention that she was ready to embark on a new chapter. Whiting asked if Foreman knew of anyone who might be interested in taking over the lease, and "a couple weeks later, he texted me and said, 'Hey, I'd like to come take a peek,'" she adds. The deal was put on hold due to the pandemic, but solidified recently.
"Cafe Hon has been important to the city of Baltimore and to Hampden for many years," Foreman said in a statement released today. "We respect all of the efforts at Cafe Hon that have brought the spirit of this deeply Baltimore neighborhood to the public eye."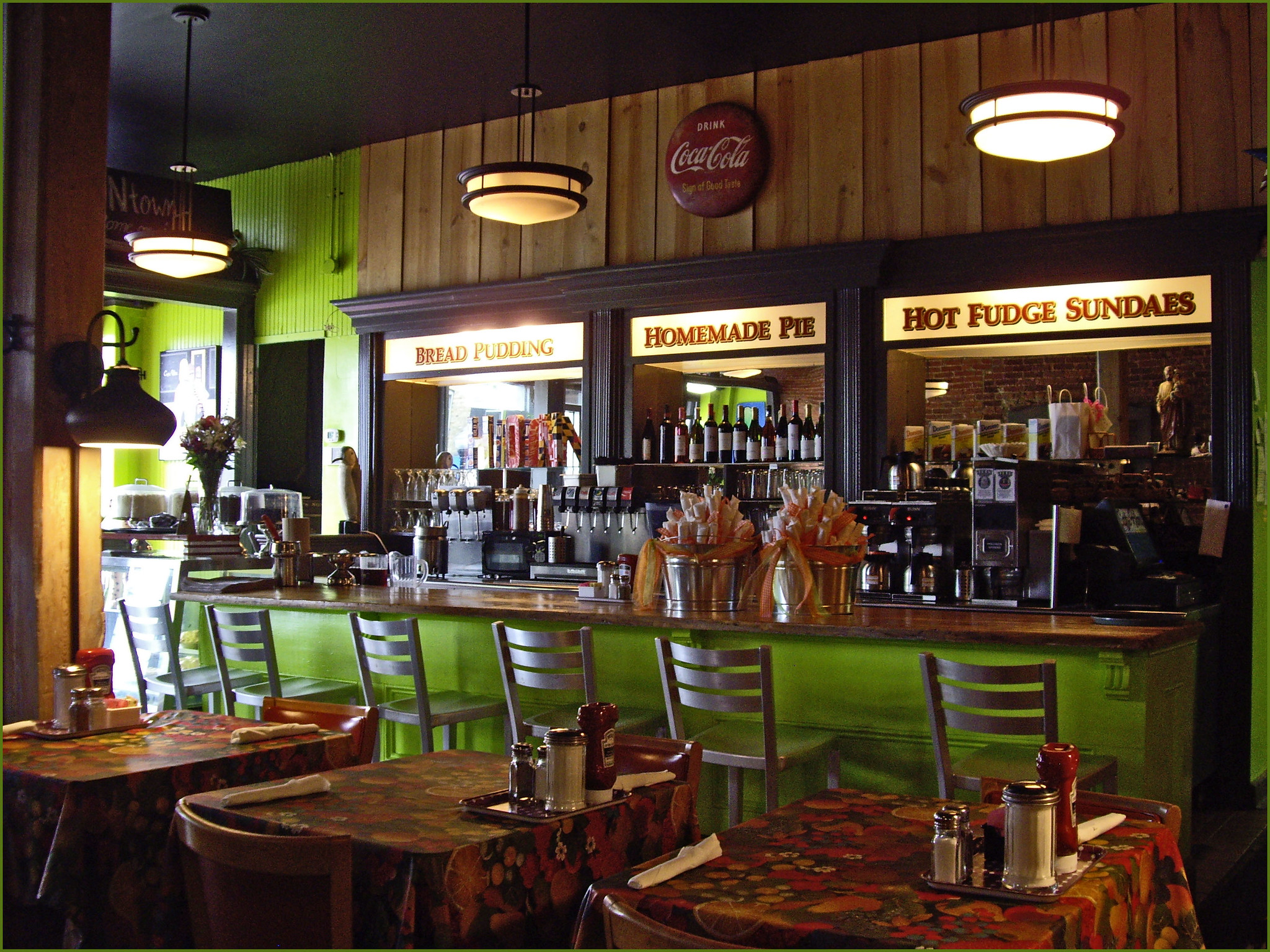 —Photography by Ron Cogswell via Flickr Creative Commons
Though the changeover is indeed emotional, Whiting says that the 30-year anniversary feels like a natural stopping point. She's confident that the space will be in good hands.
"It's the best location in Hampden, because of the corner it's on and the history of the building," she says. "I just feel like they will be really excellent people to love and nurture the location the way I did. You go into Petit Louis and Charleston and it feels really comfortable. It just made good sense."
Whiting opened Cafe Hon in 1992, initially planning to only serve customers a few days a week. (The rest of the time she would use the space for her catering business, which she had been previously running out of her home.) The restaurant's name came about when a friend of Whiting's asked how she was going to use the space, to which she replied, "It's gonna be a cafe, hon."
"The place had a homey, warm, grandmother-y kind of feeling," Whiting says, mentioning interior touches like the flower tablecloths, framed cigar boxes, and an old stove as a waiter station. "Hon is a term of endearment. I think there are some places you walk into and you just feel an immediate connection—you can feel the energy and warmth. When we opened, that was kind of what happened." 
Though it wasn't without its controversies (a 2012 episode of Kitchen Nightmares documented the aftermath of Whiting trademarking the word, "hon," which she later relinquished), the cafe's charm continued to attract locals—and tourists—throughout the decades. 
And while Whiting is moving on, her work to celebrate hon culture in Charm City is far from over. She will continue to host and organize the neighborhood's annual HonFest, which is returning with three stages, an updated entertainment lineup, and the famous "Best Hon" pageant from June 11-12 this summer. And speaking of iconic city symbols, it's not lost on Whiting that the fate of the building's legendary exterior pink flamingo sculpture—originally a Christmas decoration that ended up becoming a permanent fixture on the Avenue—will be top-of-mind for locals. 
"We're going to rehome the bird," she says, adding that creator Randall Gornowich is currently looking for its next spot. "I feel like it technically belongs to Baltimore, I've just been the keeper." 
When looking back at the diner's run, Whiting is quick to note the people that made it feel like a community. She mentions staff like Dottie Warren, 70—a cook who has been around since the beginning and still makes the bread pudding, caramel sauce, and hot fudge on weekends—as well as Lisa Davis, Whiting's "rock in the bar" who has been on staff since 2002. 
Above all, Whiting is thankful to her customers: "The biggest thing about a restaurant, especially one that's been around as long as we have been, is that you become a part of people's families," she says. "That has been an honor for me."